Welcome to Danube Day 2022
Welcome!
We're happy to announce that the various restrictions on public gatherings throughout the Danube River Basin as a result of the global COVID-19 pandemic have mostly been lifted and are looking forward to 2022's Danube Day celebrations on and around 29th June 2022!
Stay tuned to #DanubeDay and #DiscoverDanube on Social Media or watch this space for further updates.
Austria
A nice programme over three days is awaiting our visitors:
Danube Day 2022 festivities will start on 13th June with a boat tour at the heart of the National Park Donau Auen. Up to 5 boats will be operated and supervised by park rangers, offering tours for 50 teenage pupils.
Location:
SchlossORTH Nationalpark-Zentrum
Schlossplatz 1, 2304 Orth/Donau
Date and time:
Mo. June 13th, 2022 / 09:00-13:00
For visitors joining on 14th and 15th June, stations will be operated in the National Park House, the 'SchlossORTH National Park Center', which will be designed and supervised by National Park rangers and partner organizations.
Location:
SchlossORTH Nationalpark-Zentrum
Schlossplatz 1, 2304 Orth/Donau
Date and time:
Tuesday, June 14th, and Wednesday, June 15th 2022 between 09 AM and 1 PM.
Find out more here:
https://www.danubeday.at/
https://www.facebook.com/danubeday/
https://playdanube.app.ovosplay.com/#/login
Bulgaria
Three events have been planned by our colleagues in Bulgaria:
In the town of Nikopol: Danube Day celebrations will include interactive educational models, concerts, competitions, exhibitions, actions to clean the banks of the Danube and its tributaries, and a Danube Day info campaign
In the village of Baykal, part of the municipality of Dolna Mitropolia: Danube Day celebrations will include interactive educational models, concerts, competitions, exhibitions, cleaning actions on the banks of the Danube, and a Danube Day info campaign
In the town of Belene: Danube Day celebrations will include a festival with interactive educational models, representation of Danube countries and traditional Bulgarian customs, and a Danube Day info campaign
In Bulgaria, all Danube Day celebrations will be held every day between the 25th and the 30th of June.
Czech republic
Our Czech colleagues of the Czech Ministry of the Environment are planning a joint event hosted by the T. G. Masaryk Water Research Institute (TGM WRI). The Institute's Open House Day will be held on 21st June and is open to schools and families.
Find out more here:
Germany - Baden Württemberg
Danube Day visitors in Baden Württemberg are invited to the inauguration of a special revitalization project and will get to discover the nice redesigned area of the confluence of the Brigach and Breg Rivers at the source of the Danube River under the motto: "The confluence of Brigach and Breg: A New Beginning for the Danube".
Following a two-year construction period, the redesigned area of the confluence of Brigach and Breg at the source of Danube River will be inaugurated and presented to the public in the occasion of Danube Day on the June 29th, starting at 10 AM.
The preliminary programme includes:
10 AM: Inauguration of the newly revitalized confluence of the Brigach and Breg, the source of Danube River. Opening by Thekla Walker, Minister of the Environment, Climate Protection and the Energy Sector of Baden-Württemberg.
11 AM: Guided tour along the revitalized river banks and presentation of the "Donauursprung-App" to the invited guests
12 PM: "Meet and Greet" at Lunchtime
2 PM –3 PM: Guided tours for the public
Location: Donaueschingen/Confluence of the Brigach and Breg Rivers
Find out more here:
Facebook: https://www.facebook.com/RegierungspraesidiumFreiburg/
Twitter: https://twitter.com/RPFreiburg
Germany - Ulm
Our colleagues of the Donaubüro in Ulm have planned again their flagship event, the famous 'Fahnenlauf' in honour of Danube Day. During the 'Flag presentation for the International Danube Festival 2022', colourful flags that are the symbol of the International Danube Festival Ulm/Neu-Ulm will be presented. The concept of the flags was designed by artists from Ulm/Neu-Ulm. Almost 650 flags were designed and hand-painted individually. For the opening ceremony of the International Danube Festival, people will walk carrying the flags and place them along the banks of the Danube.
Don't miss out if you're in the region, the meeting point is 4 PM on the 30th of June at the riverfronts of Ulm and Neu-Ulm.
Find out more here:

www.donaubuero.de
www.donaufest.de
www.facebook.com/Donauportal
www.twitter.com/donaubuero
Hungary
Three events have been planned by our colleagues in Hungary:
On 18th June, you can look forward to an all day event of Danube Day celebrations in Budapest, open for families and all visitors at the Children's Island or Hajógyári Sziget.
On 23rd June, the city of Baja, in the Lower Danube Valley Water Directorate, join our Hungarian colleagues for a book presentation about the history of the Lower Danube Valley of Water Directorate.
On 1st July, in the city of Berettyóújfalu, join celebrations under the motto "Celebrating Danube Day among water directorates with the Romanian partners". On this occasion, the so-called family of water management comes together to celebrate the international Danube Day. The event is organised by the General Directorate of Water Management, Trans Tisza Water Directorate, in cooperation with the Romanian Water Directorate called Administratia Nationala "Apele Romane", (National Bureau of Romanian Waters). The program includes a cooking competition, various sporting events (and competitions, come prepared!) and concerts.

Find out more here:

http://www.hidrologia.hu/mht/index.php?option=com_content&task=view&id=13&Itemid=38
http://www.aduvizig.hu/
https://dunanap.hu/
Moldova
Our colleagues in Moldova have prepared a nice two-day event on 25th and 26th June in the Lower Prut Region. Activities include:
A children folk festival
A presentation of local traditions
Tasting of local dishes
A visit for pupils to a nature-protected site (at the confluence of the Danube and Prut Rivera) with an open lesson on climate and biodiversity.
Serbia
Our colleagues of the PWMC Vode Vojvodine are organizing their tradition recreational regatta on the occasion of Danube Day, on 29th June. This event it is one of the largest multi-day recreational navigation events in Serbia. through this event, PWMC Vode Vojvodine aims at promoting the navigation potential of the Vojvodina Region, as well as nautical tourism and life near the water.
The Vode Vojvodine regatta will sail along the DTD canals and Danube River on a circular route, starting the last week of June.
Another event to celebrate Danube Day in Serbia will be held at the Ram Fortress, in the city of Veliko Gradište, a town and municipality located in the Braničevo District in Eastern Serbia. The event will offer visitors a thematic programme focussed on the importance and preservation of the Danube River, and includes a boat ride on the Danube.
Throughout Serbia, events have been planned to celebrate the Day on 29th June such as:
educational lectures for children in primary and secondary schools
thematic workshops in kindergartens
painting workshops for children
sports games and other water-related activities
Find out more here:
www.vodevojvodine.rs
https://instagram.com/jvp_vodevojvodine?utm_medium=copy_link
Vode Vojvodine | Facebook
http://www.srbijavode.rs/web/
Youtube channel (6) ЈВП Србијаводе - YouTube
Instagram https://www.instagram.com/jvp_srbijavode/
Slovakia
Our Slovak colleagues are organizing several events to celebrate Danube Day.
On 23 June, you can join a Municipalities and protection of Žitný Ostrov, a River Island in southwestern Slovakia, extending from Bratislava to Komárno. A groundwater workshop is awating visitors, and many more activites co-organised by the Slovak Ministry of the Environment and the local municipalities.
On 28th June, between 9 AM and 1 PM, meet the team of the Slovak Research Institute (WRI) just below the Devin Castle, where you'll also find other booths hosting various Slovak environmental institutions that will offer children opportunities to play games, get little presents and learn something new about nature conservation, water protection and Danube flora and fauna.
Still on 28th June, for those who have visited the stands, you can still boad a Danube ship by the new Devin Castle, listen to interesting presentations for a young and less young audience, and a lot about the Danube River. And don't worry, there is space for everyone! The ship can accommodate 120 passengers, also in case of bad weather. This event is also scheduled between 9 AM and 1 PM.
Another possible activity, is the Tour of the Laboratories of the Water Research Institute, planned for 28th June between 9 AM and 1 PM. Primary school pupils and their teachers are warmly invited to visit the Water Research Institute. Come and watch environmental films, discover our hydraulic laboratories where you can discover different models of rivers, and much more.
Slovenia
Our colleagues in Slovenia have planned two major events for Danube Day.
Firstly, on 1st June, the joint event Danube Day – Sava Day under the theme: When the waters from the Kolpa will reach the Danube – Continuing with an action marking high water levels. The event will take place by the Kolpa River.
This June, the joint celebration of Danube Day and Sava Day will be organized in a cooperation between Slovenia and Croatia on the borders of the Kolpa River. The main purpose of the action is to encourage critical judgment of one's own and others' actions while raising the individual's sense of responsibility in the event of floods.

This event will provide an opportunity to:
Inform about high water levels
raise awareness of and educate the public about floods as a natural phenomenon
inform about steps to adapt to such a natural phenomenon
Besides official institutions, local stakeholders are also invited. Locals, schools, local government, real estate owners of buildings carrying high water marks will all be included in the event.
On 17th June, another Danube Day event has been planned to take place at the Ljubljansko barje Nature Park, located in the area of Ljubljansko barje (Ljubljana Marsh), in Central Slovenia, in the southernmost part of the Ljubljana.
Dinaric Slovenia is an area with interesting and extraordinary karstic characteristics, which are mainly made by water. The Nature parks were established to prevent geological and hydrological characteristics and also the biodiversity of the area. During the event, the karstic phenomena of bifurcation zones, measures to prevent hydrological and biodiversity characteristics and possibilities to anchorage similar regions to do their "job" will be presented. Here again, all local stakeholders will be invited to attend.

Find out more here:
https://www.gov.si/drzavni-organi/ministrstva/ministrstvo-za-okolje-in-prostor/
https://www.gov.si/drzavni-organi/organi-v-sestavi/agencija-za-okolje/
https://www.facebook.com/ARSOvode/
https://twitter.com/ARSO_VODE
https://www.savacommission.org
https://www.ljubljanskobarje.si/
https://www.notranjski-park.si/en
https://www.naravniparkislovenije.si/en
In local TV and newspapers
Why not #DiscoverDanube and see what happened during Danube Day 2021?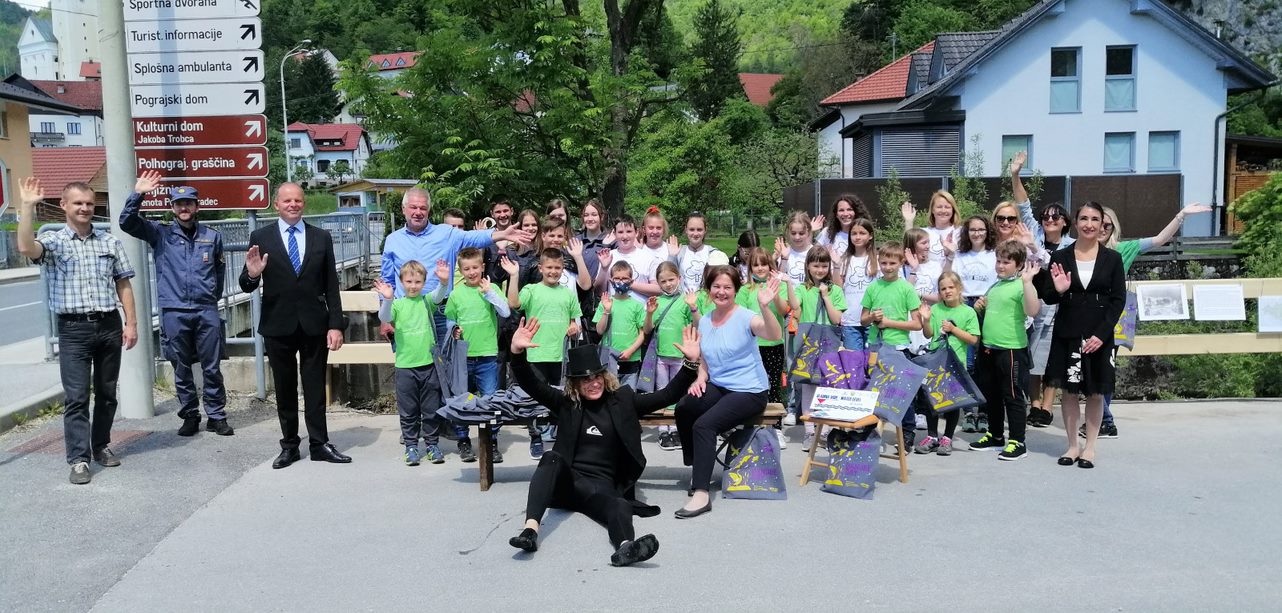 Danube Adventure Game
Why not get 'active for the Danube' at home, and try out the Danube Adventure Game now?

Gallery